Programs by Aventura Latino Americana:
Some of our services:
IN THE DOMESTIC PERU
Travels according the programs to choose guided or only informed
Honeymoon
Business travel and incentives
Advertising travels, spots, clips, etc. (Logistic, land, sea, air, sierra , jungle)
Mountaineering expedition, equipment and specialized guides or simple trekkings
Simple tours and excursions
Parapente, deltawing, paragliding, etc.
Transport in super luxurious limousine, custer, autocar, antique car type Ford A etc.
Reservations in hotels, transfer, restaurants etc.
Selling of aerial tickets, (re) confirmation of national and international flights.
Information and assistance.
ASSISTANCE AND POLYVALENT SERVICES
Communication > reception and sending of normal courier, world courier express, fax, electronic courier (Internet)
Intendance and logistic > vehicles search, houses, locals, moving services, etc.
Administrative > information about: visas, businessmen residence, immigrants, commerce beginning, contact with lawyers.
AFFAIRS
Products or societies representation
Control works
Reception and distribution of catalogues or other documents
Contacts of business
Simple or juridical translations, etc.
FROM PERU TOWARD THE EXTERIOR
Travels, complete tours in the Entire World (with some rare exceptions)
Selling of aerial tickets for every destinations and/or connections since Peru or environs
Selling of bus tickets through South America since Peruvian frontiers
Our travels guided : North of Peru, Ecuador/Galapagos, Chile, Pascua Isle, Mexico, Guatemala, Bolivia, Panama, Argentina, etc.
STUDIO Aventura Latino Americana
Our Carnets de Voyage (small guides about touristic regions of countries), diapositives, post cards, reporter jackets (16 pockets with agency and ALA logos adhered), projections/conferences, presstours, famtrip and other details with the only object to work better for you, to have a better travel, discover and live the Latin America adventure.
Aventura Latino American is also participant of the "Convention for the Projection and the Respect for the Environment and for the People", with the objective to develop the benefit aspects the tourism could have above natural resources and the present towns, everything trying to prevent or minimizing the eventual negative impacts. Reasons by which we invite every people which travel with us to respect those rules for the benefit of the country, local towns, biological balance, archaeological and historical values, with the object to preserve to themselves, their friends and/or descendants, at least a region of the world which has the fragile privilege, but an incalculable value, to have one of the richest biodiversities of the world, one of the great oxygen productions and the most extraordinary archaeological patrimony of every South America.
---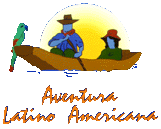 Aventura Latino Americana SRL
Avenida Mariscal La Mar, 146 Lima 18 (Miraflores) Tel/fax: 51-1-447.14.44